PUBLICATIONS
For the purpose of the dissemination of the results of our research we focused on the publication of scientific articles both individual and collaborative in newspapers specialized in different areas of knowledge, as well as the elaboration of two books: an annotated anthology of utopian, dystopian and science fiction texts and a collection of critical texts.
Série ALIMENTOPIA
The Série ALIMENTOPIA, published by U.Porto Press as part of Coleção Transversal, aims to contribute to the creation of a history of literature and culture focused on how societies produce, distribute and prepare food, taking into account, for the critical reflection on the present and the future, indicators of inclusion, development, and sustainability, at different levels.The following titles are part of Série ALIMENTOPIA:
E se…? Narrativas especulativas sobre alimentação e sociedade – uma Antologia
Utopian Foodways: Critical Essays
Os vegetarianos utópicos de há 100 anos. Identidade, alimentação e saúde no periódico O Vegetariano (1909-1935).
Os Médicos de O Vegetariano
A Mulher e o Pacifismo: Representações no Mensário O Vegetariano
Reversed Food Chains: Humanity, Monstrosity and an Evolutionary Utopia in Colin Wilson's Spider World Novels
Despojos da Noite, Ração do Dia
Um Gosto a Céu no Lago do Breu
Herr Prosit Lê o Cardápio
História Autêntica do Planeta Marte
Mesas Migrantes: Projetos de Alimentopia
You may find the anthologies and monographies here.
---
Intersexualities in Question
Critical reviews written by José Eduardo Reis, Maria Luísa Malato, Joana Caetano, João Castro Santos, Sofia de Melo Araújo, Iolanda Ramos, Jorge Bastos da Silva, Maria Teresa Castilho.
December 2018
---
Utopia and Food
José Eduardo Reis, M.Fátima Vieira (ed.)
June 2017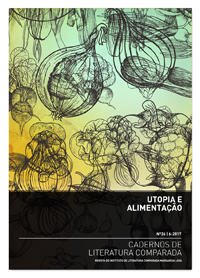 ---
Food Futures: Ethics, Science and Culture
Book of Proceedings
Olsson, I. Anna S., Sofia M. Araújo, M. Fátima Vieira (ed.)
Wageningen Academic Publishers, 2016